Uploading Videos
Log into the admin page of FC2 Video and press the "Upload" button from the top menu. Press the "Select File" button and select a video file from your PC to upload.Pressing the "Upload" button will begin the upload. You can cancel sending a video at any point.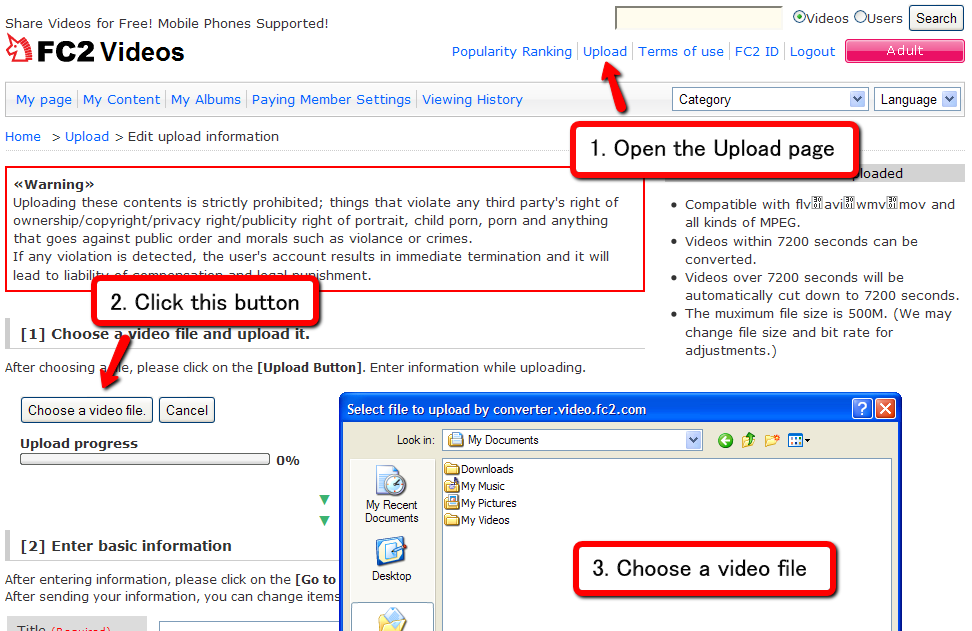 *flv, avi, wmv as well as all forms of MPEGs and most types of video files are supported. The longest allowed running time is 7200 seconds. Anything running longer than this will automatically be cut out.
NOTE
Even if the video file format is supported, if the file is in anyway corrupted or the version does not conform to FC2 Video a message stating "Currently unsupported file type" will display and the file won't upload.
Video Details
Enter in the basic details of your video. The title, category, exposure setting must be input before uploading any video.
"Search Keywords"
These are specific words which users can use to search for your video. In order for your videos to be easily searched make sure to enter appropriate keywords.
Video Title and Exposure Setting
Enter in the basic, required information. The title, category and exposure setting need to be seleceted before continuing.
*Search by KeyWord
This is a word other users can enter in to try and find your video.
Set who can view your videos (Exposure Setting).
*Completely Private ・・・ Only the original poster can watch.
*Friends only ・・・ Only other users accepted as "Friends" can watch.
*Members Only ・・・ Only Premium members can view the video.
*Completely Public ・・・ Anybody with an FC2ID can watch.
(Note: There is a limit to the number of times you can view videos in a single day)
Once all basic information has been entered, please go to "Confirm" at the bottom of the screen and then "Send".
Even after uploading, you can still edit or amend the title and other details from the "My Contents" page.
Changing Settings after Uploading & Deleting Contents
Directly after uploading, the word "Converting" will display and a thumbnail will be generated. This process may take some time for larger files. If for some reason the file fails to convert, the words "Data Conversion Failed" will appear. If after attempting to upload the file multiple times it still fails, it could mean that the file size or format is incompatible or that the file itself is corrupted. In case of a failed upload, all unneeded contents can be deleted using the "Delete" button.
*Please note, deleted items cannot be retrieved.
**You can edit the title, category, exposure settings etc. as many times as you want.
FC2 Video accepts flv, avi, wmv, all forms of MPEG and other generally popular video files.
However, please note that some video files may not be uploadable if the version is incompatible with FC2 Video, or if the file is corrupted in some way.
Please try converting to a different filetype and trying again.
The Merit of Premium Membership
| | | |
| --- | --- | --- |
| | Free Members | Premium Members |
| File Size | 1GB | 2GB |
| No. Uploadable Videos | Unlimited | Unlimited |
At present, there is no limit to the number or size of videos you can upload.
Video Encoding
FC2 Video converts (encodes) videos to videos for transmission.
Please note that this can cause slight changes in the audio or video quality.